For one week only, make lol savings with 20% OFF all themed decks!
With a 5* global rating, Taboo is the best laugh-out-loud party game on iOS and Android, and we're bringing you more laughs this International Joke Day!
In Taboo, you have to describe the word on the card without using any of the words listed on the card. Your team needs to guess as many words as possible in each round to win! It's fast-thinking fun that brings the laughter every time. Gather your friends and family together in one place, or wherever they are with in-game video chat, and get the party started!
Get 20% OFF ALL themed decks for ONE WEEK ONLY this International Joke Day!
International Joke Day
Connecting with friends and sharing fun times is important, and laughter has far-reaching benefits for the mind and body. It boosts the immune system and decreases stress hormones. It improves heart health and even burns calories! On International Joke Day, we're encouraged to set aside the serious news items of the day for just a few hours, for the benefit of our overall health and our relationships.
With Taboo, fun is the focus and the stakes are laughably high!
The Themed Decks
Each deck is filled with words related to a specific subject, so you can personalise your deck with the things that interest you most. However, if you think describing words about the things you love will be easier, think again! When you can't say any of the words on the cards, try thinking about anything else!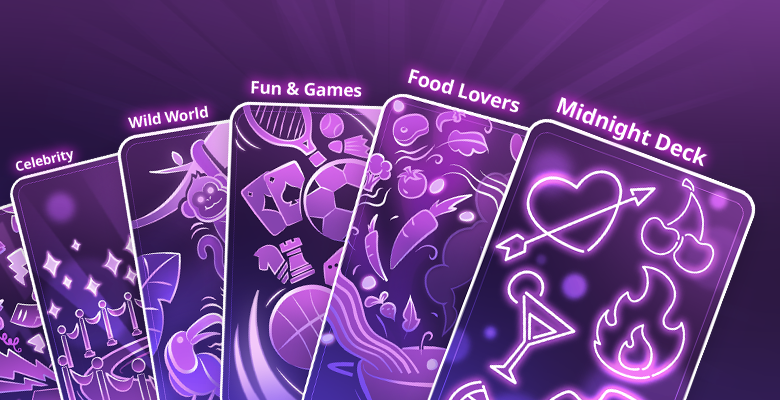 Decks include:
Celebrity – can you describe 'Kim Kardashian' without saying Kanye West, Instagram, Skims, Lips or Sisters?
Wild World – how would you describe 'Whale', without using the words: big, ocean, blue, mammal or fish?
Food Lovers – could you get them to guess 'Whisk' without saying: utensil, stir, eggs, baking or beat?
Fun & Games – Howabout Wrestling, without saying: WWE, Fight, Ring, The Rock or Hulk Hogan?
2 Mystery Decks – it's a random selection of cards on many different topics, none of which are included in any other deck!
And if you're looking for laughs with your grown-up friends, the best selling Midnight Deck will raise pulses and questions! With words from Vape to… well… other words… you'll be on the floor laughing in no time!
Connect with Friends
Taboo on iOS and Android is a game you can take with you to parties and play in person… or play remotely with in-game video chat.
Download Taboo and get 20% OFF each of the 7 themed decks for ONE WEEK ONLY!