Trek away from the woodland path and get lost in a new property market!
Add a little magic to your property empire with the brand new Enchanted Forest board, available now in Monopoly on iOS and Android. Buy, sell and scheme your way through the floating butterflies, tall grasses and chattering streams. It may look like a dream, but the competition is wide awake!
A Miniature World
Dive into a fairytale land of old. Own the board, from trees to toadstools to pumpkins, beanstalks, and finally the Tree Stump Castle! Keep your wits about you and don't get distracted by the fantasy setting, because the rents are as real as ever!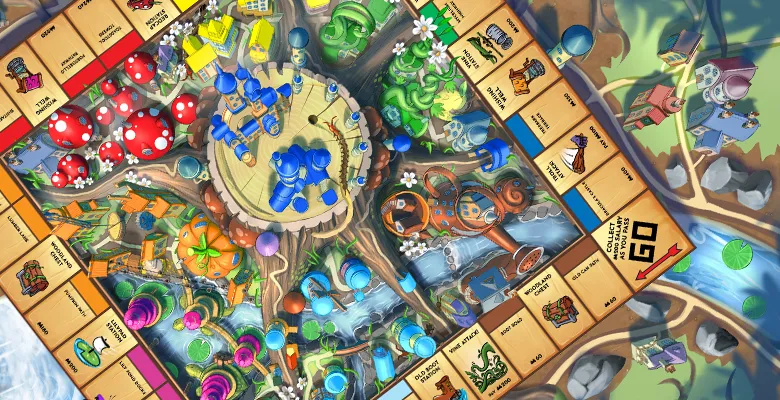 In our modern world, space is running out for magical creatures and people, so property comes at a premium! Buy and sell your way around the board, grow your fortune and risk it all.
Escape Reality
Lose yourself in this classic family favourite board game. With Monopoly's Enchanted Forest theme, you can get away from it all in a brand new setting, while playing the game you know and love. Take a deep breath and relax as you join a thriving, magical property market! Sink into the moment with some Monopoly mindfulness. Enjoy the winding rivers, butterflies, bees and bright flowers. Just try not to get lost in the dappled light!
Magical New Tokens
Play as one of these magical characters and blend right in with the locals!

Gnome Wizard
Behind the beard lies the face of a keen property mogul, and under the hat is the brain of a Monopoly tycoon! Don't let the walking stick fool you, the Gnome Wizard stands strong!

Enchanted Frog
Among the chattering streams and waterways the Frog is at home both in and out of the water. Leap over the competition and stick to your properties with this unusual token!

Sly Fox
When it comes to making deals, the Fox always hunts down the bargains. Catch the scent of victory among the flowers and keep your eyes on the prize.

Snail Steed
Saddle up and enjoy the view atop your very own Snail Steed! Progress may be slow, but you'll leave a trail of success in your wake! Enjoy the ride and see if slow and steady really does win the race!
Gather your family together on mobile and get lost in the Enchanted Forest! Welcome Spring time with a little pixie dust!